7 marzo, 2017 1:04 pm
Deja tus comentarios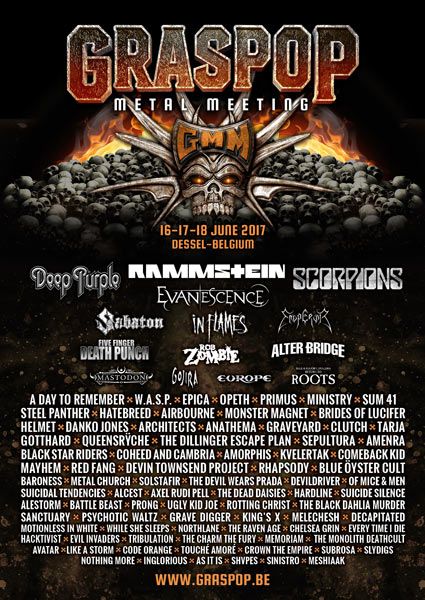 Scorpions, As It Is, Battle Beast, Black Star Riders, Blue Öyster Cult, Code Orange, Coheed And Cambria, Graveyard, Helmet, Melechesh, Nothing More, Sepultura, Suicide Silence, Sum 41, The Dillinger Escape Plan y The Raven Age. Así se da por finiquitado el espectacular cartel del Graspop Metal Meeting 2017, imprescindible cita belga que tendrá lugar los próximos 16, 17 y 18 de junio.
Junto a estas bandas, nada más y nada menos que Rammstein, Deep Purple, Evanescence, In Flames, Five Finger Death Punch, Rob Zombie, Emperor, Alter Bridge, Europe, Epica, Opeth, Primus, Ministry, Steel Panther, Monster Magnet, Hatebreed, Airbourne, Danko Jones, Sabaton, Mastodon, Gojira, Max & Igor Cavalera, A Day To Remember, Amenra, Architects, Kings' X, Crown The Empire, Every Time I Die, Bridges Of Lucifer, Metal Church, Touché Amouré, W.A.S.P, Like A Storm, Anathema, Clutch, Gotthard, Queensrÿche, Tarja, Amorphis, Mayhem, Comeback Kid, Red Fang, Devin Townsend Project, Baroness, Rhapsody, Kvelertak, Solstafir, The Devil Wears Prada, Devildriver, Suicidal Tendencies, Alcest, Axel Rudi Pell, Hardline, The Dead Daisies, Alestorm, Prong, Ugly Kid Joe, Rotting Christ, The Black Dahlia Murder, Sanctuary, Of Mice & Men, Psychotic Waltz, Grave Digger, Decapitated, Motionless In White, While She Sleeps, Northlane, Chelsea Grin, Evil Invaders, Hacktivist, Tribulation, The Charm The Fury, Memoriam, Avatar, The Monolith Deathcult, Subrosa, Slydigs, Inglorious, As Lions, Shvpes, Sinistro y Meshiaak.
Todavía quedan entradas para esta celebración del metal. Los abonos se sitúan a 195€ más gastos de distribución, mientras que los pases diarios se encuentran a 95€ más gastos. Todavía quedan entradas VIP diarias para sábado y domingo por 149€ más gastos.

Últimas entradas de Redacción
(ver todo)