9 abril, 2018 4:51 pm
Deja tus comentarios
El festival celebrado en Viveiro (Galicia) los días 11, 12, 13 y 14 de julio, Resurrection Fest 2018, ha agotado el 80% de los abonos de tres días; los restantes siguen a un precio de 125€. La venta sigue a un ritmo muy alto para el resto de las opciones disponibles: abono de 3 días + Warm-Up Party 133€. El VIP cuesta 198 € más gastos y 203 €  (con Warm-Up Party) más gastos. En cuanto a las entradas de día, la del jueves cuestan 75 €más gastos, las del viernes, 85 €más gastos; las del sábado, 85€ más gastos. La Warm-Up Party aislada tiene un precio de 12€.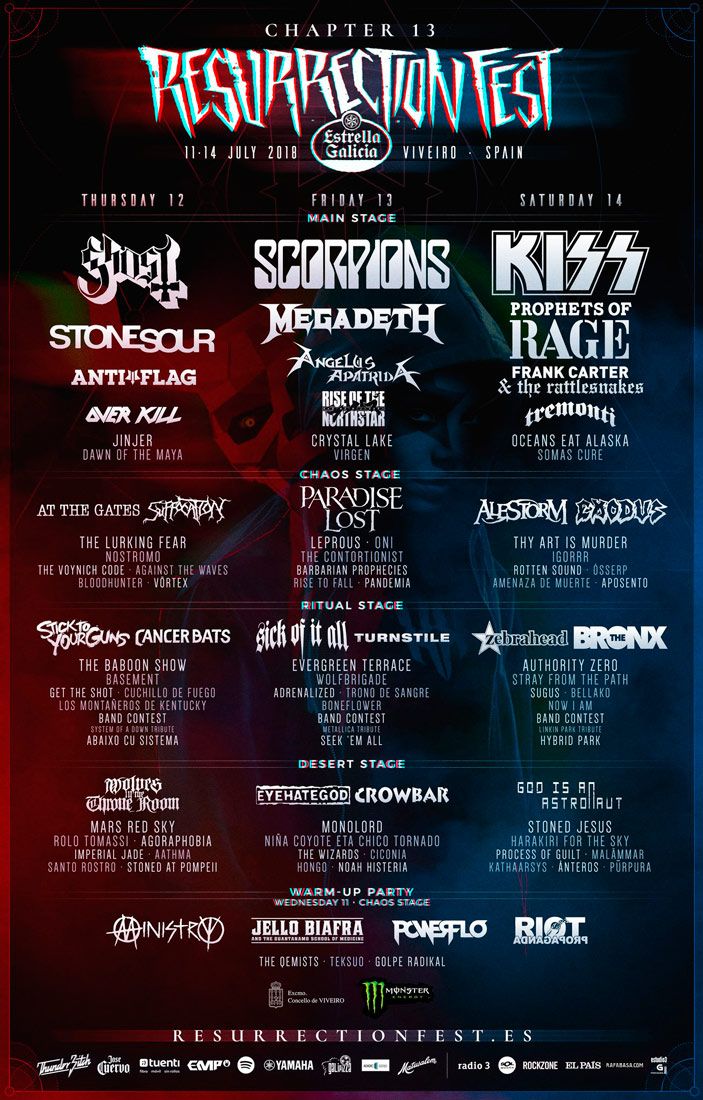 Respecto a la acampada, el Resucamp tiene un nivel muy alto de ocupación, pero sigue a un precio de 78€ + gastos (la parcela de dos personas), el Beachcamp a 56€ + gastos y pronto habrá noticias del Glamping.
Las entradas puedes adquirirlas aquí o en tu oficina de correos más cercana.
Te recordamos los grupos que forman el cartel de este año:
11 de julio: Ministry, Jello Biafra & The Guantanamo School Of Medicine, Powerflo, Riot Propaganda, The Qemists, Teksuo y Golpe Radikal.
12 de julio: Ghost, Stone Sour, Anti Flag, Overkill, Jinjer, Dawn of the Maya, At The Gates, Suffocation, Stick To Your Guns, Cancer Bats, Wolves in the Throne Room, The Lurking Fear, Nostromo, The Voynich Code, Against The Waves, Bloodhunter, Vortex, The Baboon Show, Basement, Get The Shot, Cuchillo de Fuego, Los montañeros de Kentucky, Abaixo Cu Sistema, Mars Red Sky, Rolo Tomassi, Agoraphobia, Imperial Jade, Aathma, Santo Rostro y Stoned At Pompeii.
13 de julio: Scorpions, Megadeth, Angelus Apatrida, Rise of the Northstar, Crystal Lake, Virgen, Paradise Lost, Sick Of It All, Turnstile, Eyehategod, Crowbar, Leprous, Oni, The Contortionist, Barbarian Prophecies, Rise To Fall, Pandemia, Evergreen Terrace, Wolfbrigade, Adrenalized, Trono de Sangre, Boneflower, Seek 'Em All, Monolord, Niña Coyote Eta Chico Tornado, The Wizards, Ciconia, Hongo y Noah Histeria.
14 de julio: KISS, Prophets of Rage, Frank Carter & The Rattlesnakes, Tremonti, Oceans Eat Alaska, Somas Cure, Alestorm, Exodus, Zebrahead, The Bronx, God Is An Astronaut, Thy Art Is Murder, Igorrr, Rotten Sound, Osserp, Amenaza de muerte, Aposento, Authority Zero, Stray From The Path, Sugus, Bellako, Now I Am, Hybrid Park, Stoned Jesus, Harakiri For The Sky, Process Of Guilt, Malammar, Kathaarsys, Anteros y Purpura.

Últimas entradas de Redacción
(ver todo)