29 marzo, 2017 9:58 am
1 Comentario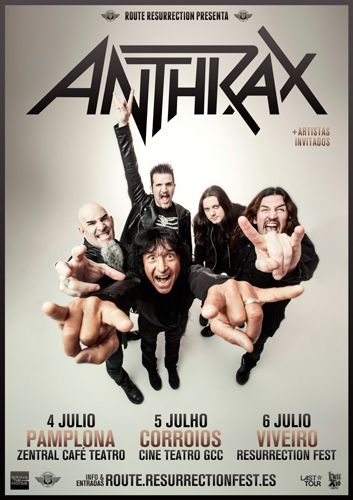 Anthrax es el protagonista de un nuevo Route Resurrection del festival Resurrection Fest, esta vez organizado con la colaboración de Last Tour y Hell Xis Agency.
El combo neoyorquino seguirá desgranando los temas de su último 'For All Kings', junto a grandes clásicos de toda su trayectoria, en un mini tour con dos paradas peninsulares:
4 de julio - Café Teatro (Pamplona) - 200 primeras entradas a 25€ más gastos.
5 de julio - Cine Teatro GCC (Corroios, Lisboa) - 25€ más gastos.
Estas citas se unen a su actuación en el festival de Viveiro (Lugo) programada para el 6 de julio. ¿Quieres conocer el resto de grupos que se pasarán por el recinto del 5 al 8 de julio?
Rammstein, Rancid, Sabaton, Mastodon, Dropkick Murphys, Airbourne, Suicidal Tendencies, Enter Shikari, Arch Enemy, Sepultura, Agnostic Front, Annihilator, Mayhem, Eluveitie, Architects, Obituary, Terror, Red Fang, Napalm Death, Snapcase, Comeback Kid, Soziedad Alkoholika, Talco, Animals As Leaders, Korpiklaani, Orange Goblin, The Menzingers, The Devil Wears Prada, Pentagram, Bury Tomorrow, The Black Dahlia Murder, Lost Society, Taake, Truckfighters, Warbringer, All Out War, The Vintage Caravan, Krisiun, Undeclinable Ambuscade, Northlane, Obey The Brave, Alcest, Karma To Burn, Deez Nuts, CJ Ramone, Wisdom In Chains, Adhesive, Wolf Down, Conan, Lords of Black, Benighted, Mantar, Adrift, Holocausto Canibal, D.Y.S., The Inspector Cluzo, Besta, Deserted Fear, Stray Train, Malevolence, Bastards, Noctem, Vita Imana, Legacy Of Brutality, Guerrera, Reality Slap, Böira, Mutant, Crim, Killus, Blaze Out, Porco Bravo, Morphium, Trashnos, Teething, Aphonnic, The Blackjaw, Here Comes The Kraken, El Altar del Holocausto, Revolution Within, Quaoar, Vice Presidentes, Bala, Brothers Till We Die, Tragic Vision, Ånima, Parazit, One For Apocalypse, Late To Scream, The Wax, Degraey y Display of Power (Tributo a Pantera). 
El abono de tres días se encuentra disponible a 125€. Si quieres disfrutar también de la Warm-Up Party, su coste asciende a 133€. Las opciones VIP se sitúan en 195€ para el abono de tres días y 203€ con la Warm-Up Party.
Por último, si tienes claro que quieres ver a Rammstein sí o sí, tienes la entrada diaria a 85€. Si, por el contrario, solo quieres asistir a la fiesta de presentación, el coste se sitúa a 8€. A todas estas opciones hay que sumar los gastos de distribución.
Descubre todas las opciones de acampada que ofrece el festival y su último comunicado oficial en contra de la especulación.

Últimas entradas de Redacción
(ver todo)