27 enero, 2017 11:03 am
Deja tus comentarios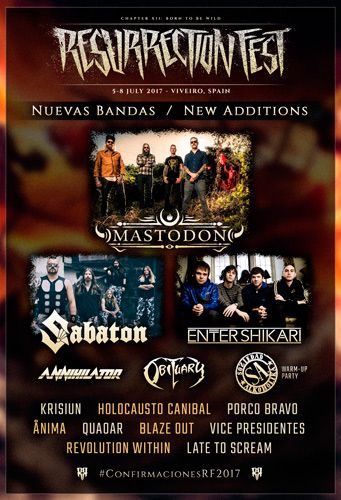 La organización del festival del Resurrection Fest, cita que acogerá los próximos 5, 6, 7 y 8 de julio en Viveiro (Lugo) a bandas de la talla de Rammstein, Rancid, Dropkick Murphys, Airbourne, Suicidal Tendencies o Arch Enemy acaba de compartir una importante tanda de confirmaciones con grandes propuestas de dentro y fuera de nuestras fronteras.
Encabezándola, Mastodon, combo que ofrecerá un gran espectáculo con temas de su próximo LP 'Emperor of Sand' junto a clásicos de todo su repertorio. Junto a ellos Enter Shikari (¿celebrando el 10º aniversario del 'Take to the Skies'?), los Annihilator de Jeff Waters, la brutalidad de Obituary y Soziedad Alkohólika para la warm-up Party. Hay más: Krisiun, Holocausto Caníbal, Porco Bravo, Anima, Quaoar, Blaze Out, Vice presidentes, Revolution Within y Late To Scream. 
Sabaton, incorporación desvelada el pasado 25 de enero vía Youtube, también ha sido anunciado junto al resto de nombres.
¿Quieres descubrir el resto del cartel? Agárrate: Agnostic Front, Mayhem, Eluveitie, Architects, Red Fang, Comeback Kid, Napalm Death, Animals As Leaders, Terror, The Bouncing Souls, Orange Goblin, Snapcase, Korpiklaani, Pentagram, Warbringer, The Devil Wears Prada, Truckfighters, The Black Dahlia Murder, Deez Nuts, The Vintage Caravan, Lost Society, Alcest, Northlane, Karma To Burn, All Out War, Taake, Bury Tomorrow, Wisdom In Chains, Conan, Lords of Black, Wolf Down, Mantar, D.Y.S., Benighted, Adrift, Besta, Malevolence, Stray Train, Noctem, Vita Imana, Bastards, Guerrera, Legacy of Brutality, Reality Slap, Böira, Mutant, The Inspector Cluzo, CRIM, Killus, Morphium, Trashnos, The Blackjaw, El Altar del Holocausto, Teething, Bala, Tragic Vision, Brothers Till We Die y One For Apocalypse.
Los abonos se sitúan a 115€. Puedes hacerte con tu entradas para el día de Rammstein (viernes 7 de julio) por 85€.

Últimas entradas de Redacción
(ver todo)