2 septiembre, 2021 1:56 pm
1 Comentario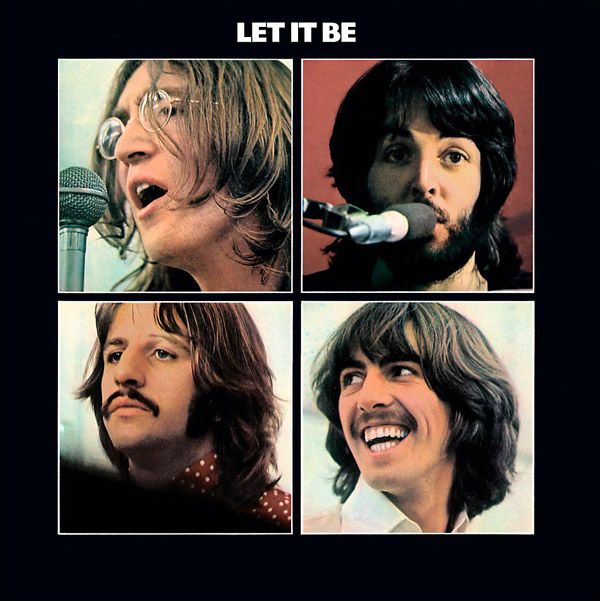 Hace un tiempo nos hacíamos eco de la serie documental que preparaba el afamado director Peter Jackson (El Señor de Los Anillos) para la nueva plataforma de Disney con The Beatles y el 50º aniversario del último álbum de la banda, 'Let It Be', como protagonistas, pero ya podemos anunciar que no será esta la única celebración de tan importante efeméride.
El lanzamiento de ediciones especiales y un nuevo libro se sumarán este otoño para hacernos volver a 1970. El 15 de octubre es el día marcado para el lanzamiento de una serie de ediciones especiales que se adelantan desde hoy con tres canciones de la nueva remezcla a las que se accede en la preventa del álbum: "Let it Be (2021Stereo Mix)", "Don't Let Me Down (First rooftp performance)" y "For You Blue (Get Back LP Mix)".
Giles Martin y el ingeniero Sam Okell se han encargado de remezclar 'Let It Be' en estéreo,  5.1 Surround DTS y Dolby Atmos, siguiendo la serie de ediciones ampliadas que han ido llegando de 'Sgt. Pepper's Lonely Hearts Club Band', 'The Beatles' (White Album), y 'Abbey Road'.
La edición física y digital en su versión Super Deluxe incluirá además 27 grabaciones de sesión inéditas, el EP 'Let It Be' de cuatro temas, y los 14 temas también inéditos del LP 'Get Back' en una mezcla estéreo recopilada por el ingeniero Glyn Johns en mayo del 69.
'The Beatles: Get Back' será el título de la serie documental de Peter Jackson, en la que encontraremos más de seis horas de contenido inédito restaurado. Se emitirá en tres episodios en Disney+ los días 25, 26 y 27 de noviembre. El propio director presenta un pequeño adelanto.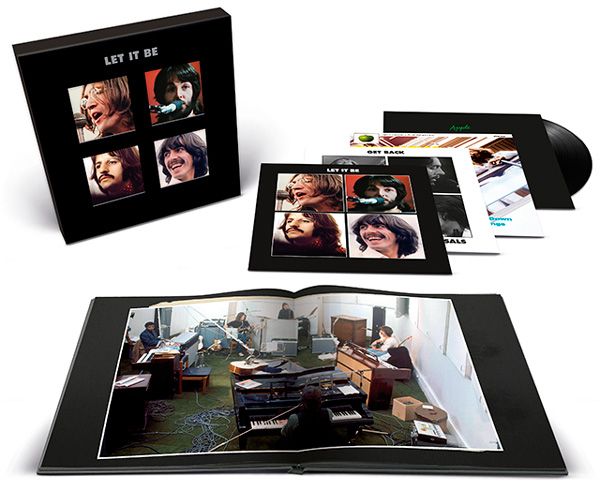 Además, también tendremos el libro bajo el mismo título que la serie. Este llegará el 15 de octubre, tratándose del primer libro oficial que publica The Beatles desde el gran éxito de 'The Beatles Anthology'. Serán 240 páginas entre transcripciones de conversaciones grabadas en las tres semanas de ensayos y sesiones, y fotos de Ethan A. Russell o Linda McCartney. El prólogo corre a cargo de Peter Jackson ya que libro y serie se complementan.
Por otro lado, también celebramos el 50º aniversario de 'Imagine', el ya legendario disco de John Lennon que el 10 de septiembre llegará en una edición limitada de vinilo blanco. Además el 9 de septiembre, el día en el que se cumple exactamente el aniversario del lanzamiento, Yoko Ono, Sean Ono Lennon, The Estate of John Lennon y Universal Music han preparado varios eventos internacionales como celebración destacando la proyección online de la película 'Imagine' en la plataforma codacollection.co y en seleccionados HardRock Cafés de América y Europa además de contar con la popular Tim's Twitter Listening Party de Tim Burgess presentará un Listening Party simultáneo.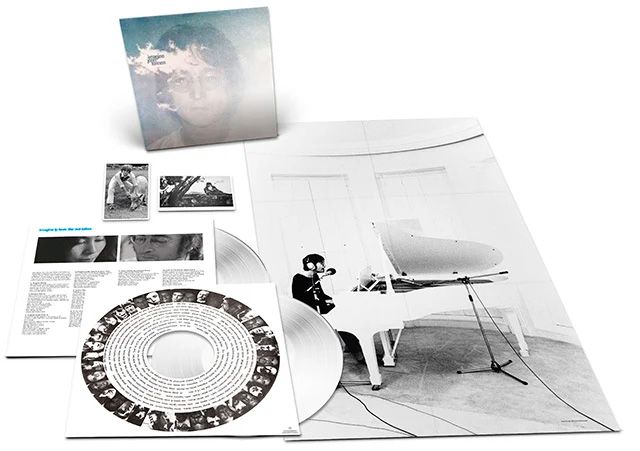 Estas son todas las ediciones que llegan con el 50º aniversario de 'Let It Be'.
Let It Be Edición Especial (Super Deluxe): 57 temas
5CD + 1Blu-ray (nueva mezcla estéreo del álbum en alta resolución de 96 kHz / 24 bits; nuevas mezclas en 5.1 surround DTS y Dolby Atmos) con libro de tapa dura de 105 páginas en un estuche troquelado de 10 "por 12".
Vinilo masterizado de 180 gramos a half-speed 4LP + 45 rpm EP de vinilo de 12 pulgadas con libro de tapa dura de 105 páginas en un estuche troquelado de 12,5 "por 12,5".
Colección de audio digital (estéreo + mezclas de álbumes en alta resolución 96kHz / 24-bit / Dolby Atmos)
Let It Be (nueva mezcla estéreo del álbum original): 12 pistas
Tomas descartadas inéditas, improvisaciones de estudio, ensayos: 27 pistas
Mezcla de LP Get Back de 1969 inédita de Glyn Johns, recientemente remasterizada: 14 pistas
Let It Be EP: 4 pistas
Mezclas inéditas de 1970 de Glyn Johns: "Across The Universe" y "I Me Mine"
Nuevas mezclas estéreo de Giles Martin y Sam Okell: sencillos "Don't Let Me Down" y "Let It Be"
Let It Be Edición Especial (Deluxe): 26 pistas
2CD en digipak con un folleto de 40 páginas resumido del libro Super Deluxe
Let It Be (nueva mezcla estéreo del álbum original): 12 pistas
Tomas descartadas inéditas, improvisaciones de estudio, ensayos: 13 pistas
Mezcla de 1970 inédita para "Across The Universe"
Let It Be Edición Especial (Estándar): 12 pistas
1 CD en digipak (nueva mezcla estéreo del álbum original)
Digital (nuevas mezclas del álbum en estéreo + alta resolución 96kHz / 24-bit / Dolby Atmos)
Vinilo 1LP masterizado a media velocidad de 180 gramos (nueva mezcla estéreo del álbum original)
Disco de imágenes de edición limitada 1 LP de vinilo ilustrado con la carátula del álbum (nueva mezcla estéreo del álbum original)
Super Deluxe (5CD+1Blu-ray + libro 105 páginas+digital audio collection)
CD1: Let It Be (new stereo mix of original album)
1: Two Of Us
2: Dig A Pony
3: Across The Universe
4: I Me Mine
5: Dig It
6: Let It Be
7: Maggie Mae
8: I've Got A Feeling
9: One After 909
10: The Long And Winding Road
11: For You Blue
12: Get Back
CD2: Get Back – Apple Sessions
1: Morning Camera (Speech – mono) / Two Of Us (Take 4)
2: Maggie Mae / Fancy My Chances With You (Mono)
3: Can You Dig It?
4: I Don't Know Why I'm Moaning (Speech – mono)
5: For You Blue (Take 4)
6: Let It Be / Please Please Me / Let It Be (Take 10)
7: I've Got A Feeling (Take 10)
8: Dig A Pony (Take 14)
9: Get Back (Take 19)
10: Like Making An Album? (Speech)
11: One After 909 (Take 3)
12: Don't Let Me Down (First rooftop performance)
13: The Long And Winding Road (Take 19)
14: Wake Up Little Susie / I Me Mine (Take 11)
CD3: Get Back – Rehearsals and Apple Jams
1: On The Day Shift Now (Speech – mono) / All Things Must Pass (Rehearsals – mono)
2: Concentrate On The Sound (mono)
3: Gimme Some Truth (Rehearsal – mono)
4: I Me Mine (Rehearsal – mono)
5: She Came In Through The Bathroom Window (Rehearsal)
6: Polythene Pam (Rehearsal – mono)
7: Octopus's Garden (Rehearsal – mono)
8: Oh! Darling (Jam)
9: Get Back (Take 8)
10: The Walk (Jam)
11: Without A Song (Jam) – Billy Preston with John and Ringo
12: Something (Rehearsal – mono)
13: Let It Be (Take 28)
CD4: Get Back LP – 1969 Glyn Johns Mix
1: One After 909
2: I'm Ready (aka Rocker) / Save The Last Dance For Me / Don't Let Me Down
3: Don't Let Me Down
4: Dig A Pony
5: I've Got A Feeling
6: Get Back
7: For You Blue
8: Teddy Boy
9: Two Of Us
10: Maggie Mae
11: Dig It
12: Let It Be
13: The Long And Winding Road
14: Get Back (Reprise)
CD5: Let It Be EP
1: Across The Universe (unreleased Glyn Johns 1970 mix)
2: I Me Mine (unreleased Glyn Johns 1970 mix)
3: Don't Let Me Down (new mix of original single version)
4: Let It Be (new mix of original single version)
Blu-ray: Let It Be Special Edition audio mixes
Dolby Atmos
96kHz/24-bit DTS-HD Master Audio 5.1
96kHz/24-bit High Res Stereo (2019 Stereo Mix)
Super Deluxe Vinyl ( 4LP+12-inch EP + libro de 105 páginas)
LP One: Let It Be (new stereo mix of original album)
Side 1
1: Two Of Us
2: Dig A Pony
3: Across The Universe
4: I Me Mine
5: Dig It
6: Let It Be
7: Maggie Mae
Side 2
1: I've Got A Feeling
2: One After 909
3: The Long And Winding Road
4: For You Blue
5: Get Back
LP Two: Get Back – Apple Sessions
Side 1
1: Morning Camera (Speech – mono) / Two Of Us (Take 4)
2: Maggie Mae / Fancy My Chances With You (Mono)
3: Can You Dig It?
4: Don't Know Why I'm Moaning (Speech – mono)
5: For You Blue (Take 4)
6: Let It Be / Please Please Me / Let It Be (Take 10)
7: I've Got A Feeling (Take 10)
Side 2
1: Dig A Pony (Take 14)
2: Get Back (Take 19)
3: Like Making An Album? (Speech)
4: One After 909 (Take 3)
5: Don't Let Me Down (First rooftop performance)
6: The Long And Winding Road (Take 19)
7: Wake Up Little Susie / I Me Mine (Take 11)
LP Three: Get Back – Rehearsals and Apple Jams
Side 1
1: On The Day Shift Now (Speech – mono) / All Things Must Pass (Rehearsals – mono)
2: Concentrate On The Sound (mono)
3: Gimme Some Truth (Rehearsal – mono)
4: I Me Mine (Rehearsal – mono)
5: She Came In Through The Bathroom Window (Rehearsal)
6: Polythene Pam (Rehearsal – mono)
7: Octopus's Garden (Rehearsal – mono)
Side 2
1: Oh! Darling (Jam)
2: Get Back (Take 8)
3: The Walk (Jam)
4: Without A Song (Jam) – Billy Preston with John and Ringo
5: Something (Rehearsal – mono)
6: Let It Be (Take 28)
LP Four: Get Back LP – 1969 Glyn Johns Mix
Side 1
1: One After 909
2: I'm Ready (aka Rocker) / Save The Last Dance For Me / Don't Let Me Down
3: Don't Let Me Down
4: Dig A Pony
5: I've Got A Feeling
6: Get Back
Side 2
1: For You Blue
2: Teddy Boy
3: Two Of Us
4: Maggie Mae
5: Dig It
6: Let It Be
7: The Long And Winding Road
8: Get Back (Reprise)
12-Inch Let It Be EP
Side 1
1: Across The Universe (unreleased Glyn Johns 1970 mix)
2: I Me Mine (unreleased Glyn Johns 1970 mix)
Side 2
1: Don't Let Me Down (new mix of original single version)
2: Let It Be (new mix of original single version)
Deluxe (2CD in digipak + libro de 40 páginas)
CD 1: Let It Be (new stereo mix of original album)
CD 2: Outtake Highlights
1: Morning Camera (Speech – mono) / Two Of Us (Take 4)
2: Maggie Mae / Fancy My Chances With You (Mono)
3: For You Blue (Take 4)
4: Let It Be / Please Please Me / Let It Be (Take 10)
5: The Walk (Jam)
6: I've Got A Feeling (Take 10)
7: Dig A Pony (Take 14)
8: Get Back (Take 8)
9: Like Making An Album? (Speech)
10: One After 909 (Take 3)
11: Don't Let Me Down (First rooftop performance)
12: The Long And Winding Road (Take 19)
13: Wake Up Little Susie / I Me Mine (Take 11)
14: Across The Universe (unreleased Glyn Johns 1970 mix)
Standard (1CD + digital + 1LP vinyl + limited edition 1LP picture disc vinyl)
Let It Be (new stereo mix of original album)
PARA LEER MÁS:

Últimas entradas de Redacción
(ver todo)