2 noviembre, 2018 11:16 am
1 Comentario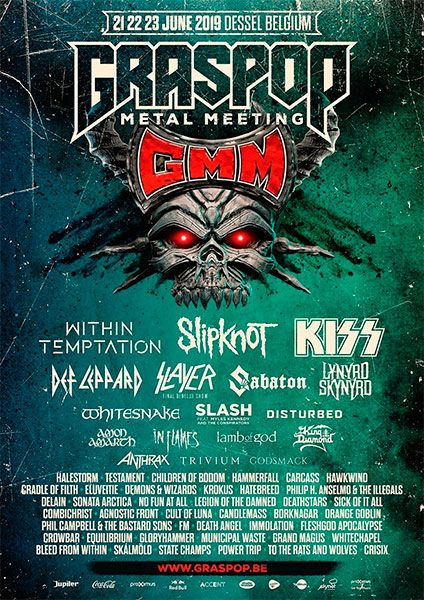 La próxima edición del Graspop Metal Meeting apunta a ser histórica viendo la última actualización de su cartel. Primero fue la confirmación de Within Temptation como cabeza de cartel de una de las tres jornadas y no tardó en llegar la incorporación de un segundo, Slipknot. Un día después lanzaban 48 nombres más entre los que se encontraba el de Crisix como primera banda de nuestro país en participar en el festival y hace un par de días se anunció el bombazo de que Kiss estará encabezando una de las jornadas de esta próxima edición. Ahora llegan Slayer con su última gira y Slash ft. Myles Kennedy and The Conspirators para seguir sumando atractivo a uno de los festivales más interesantes de Europa.
Pero no son solo esas las confirmaciones interesantes que han llegado, nada menos que Lamb of God y Anthrax, dos seguros de vida en lo que a metal se refiere, y Cradle of Filth, Death Angel y Skálmöld completan hasta el momento el cartel que pasamos a actualizar con los grupos ya divididos por jornadas, entre las que aparece una cuarta, como fiesta de inauguración el jueves.
Jueves 20: Philip H. Anselmo & The Illegals, Sonata Arctica
Viernes 21: Within Temptation, Slayer, Amon Amarth, Lynyrd Skynyrd, Anthrax, Testament, Candlemass, Municipal Waste, Bleed From Within, Combichrist, Children of Bodom, Whitechapel, Crowbar, Cult of Luna, Death Angel, Deathstars, Krokus, Hatebreed, To The Rats And Wolves
Sábado 22: Slipknot, Slash ft. Myles Kennedy and The Conspirators, Trivium, King Diamond, Lamb of God, Hammerfall, Borknagar, Demons & Wizards, Disturbed, Godsmack, Agnostic Front, Fleshgod Apocalypse, Gloryhammer, Halestorm, Grand Magus, No Fun At All, Legion of The Damned, State Champs
Domingo 23: Kiss, Cradle of Filth, Skálmöld, Def Leppard, Sabaton, Whitesnake, In Flames, Carcass, Hawkwind, Eluveitie, Delain, Sick of It All, Orange Goblin, Phil Campbell & The Bastard Sons, FM, Immolation, Equilibrium, Power Trip, Crisix

El equipo de redactores de MariskalRock te trae toda la información del mundo del rock y del metal, en todas sus vertientes.

Latest posts by Redacción (see all)