28 febrero, 2017 11:05 am
Deja tus comentarios
El Download Festival Madrid 2017 (22-24 de junio) ha anunciado una importan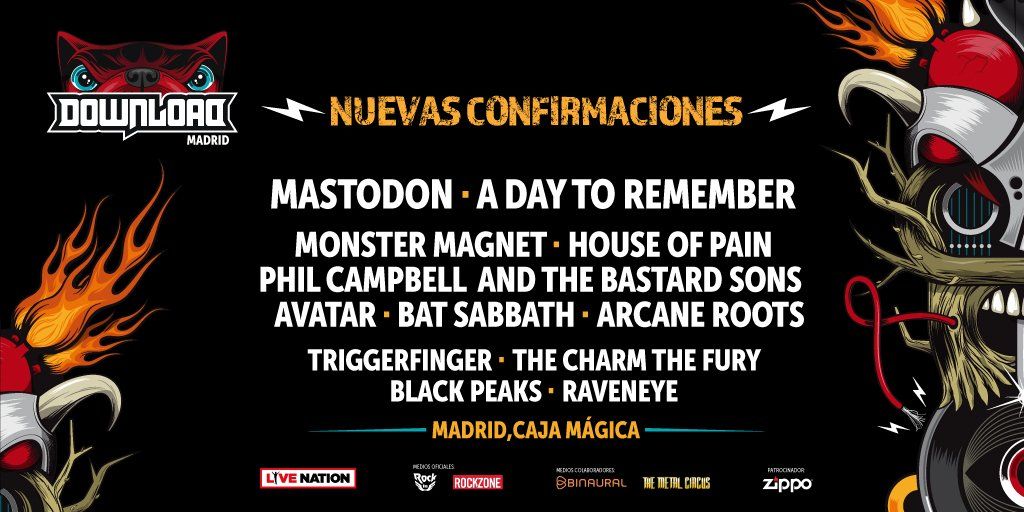 te tanda de nombres que se unen a los previamente confirmados Linkin Park, System Of A Down, Prophets Of Rage, Five Finger Death Punch, The Cult, NOFX, Motionless In White, Opeth, In Flames, Touché Amoré, Every Time I Die, Apocalyptica, Hacktivist, Ministry, Code Orange, Suicidal Tendencies, Myrath, Deafheaven, Sólstafir y God Damn, así como a la interesante tanda nacional compuesta por Hamlet, Wormed, We Ride, Cobra, Arcane Roots, Jardín de la Croix, Porco Bravo, Blaze Out, Lizzies, Dawn Of The Maya, Syberia, Somas Cure, Inmune, Trono de Sangre, Kaothic, Virgen, Against The Waves, Late To Scream y Childrain.
Aquí van: Mastodon,  A Day To Remember, Monster Magnet, House Of Pain, Phil Campbell and the Bastard Sons, Avatar, Bat Sabbath, Arcane Roots, Triggerfinger, The Charm The Fury, Black Peaks y Raveneye. 
Los previamente confirmados Zakk Sabbath son sustituidos, como habéis podido ver, por Bat Sabbath: Cancer Bats tocando Black Sabbath.
Los abonos se sitúan a 145€ más gastos de distribución. Las entradas de día se sitúan a 72€ más gastos (150€ más gastos si optas por la opción VIP).

Últimas entradas de Redacción
(ver todo)