30 octubre, 2015 6:38 pm
3 Comentarios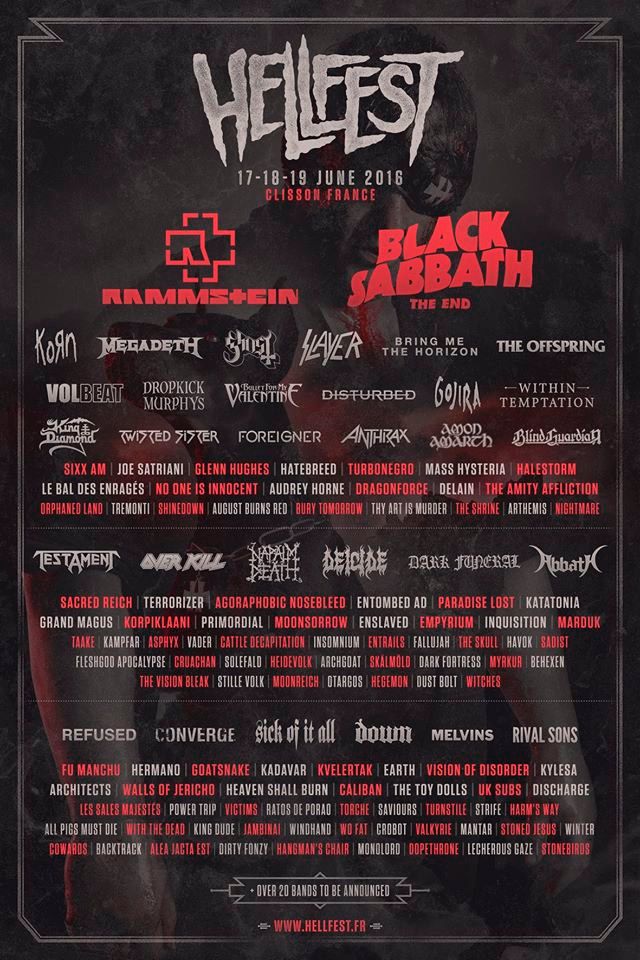 Se había hecho de rogar, pero al fin el mastodóntico festival galo ha anunciado el grueso del cartel de su edición de 2016, que será la undécima y se celebrará, como todos los años, en la localidad de Clisson. Los días 17, 18 y 19 de junio se repartirán entre los diversos escenarios del acontecimiento toda una constelación de grandes bandas, de las que destacan, en la cabecera del cartel, Black Sabbath, en su gira de despedida, y Rammstein, cristalizando su regreso a la actividad. La mala noticia para todos los que no tengan ya el abono de tres días es que ya está agotado en los cauces oficiales de compra.
El resto del elenco, a falta de veinte nombre por anunciarse, lo conforman: Korn, Megadeth, Ghost, Slayer, Bring Me the Horizon, The Offspring, Volbeat, Dropkick Murphys, Bullet For My Valentine, Disturbed, Gojira, Within Temptation, King Diamond, Twisted Sister, Foreigner, Anthrax, Amon Amarth, Blind Guardian, Sixx AM, Joe Satriani, Glenn Hughes, Hatebreed, Turbonegro, Mass Hysteria, Halestorm, Testament, Overkill, Napalm Death, Deicide, Dark Funeral, Abbath, Sacred Reich, Terrorizer, Agoraphobic Nosebleed, Entombed A.D., Paradise Lost, Katatonia, Grand Magus, Korpiklaani, Primordial, Moonsorrow, Enslaved, Empyrium, Inquisition, Marduk, Le Bal Des Anragés, No One Is Innocent, Audrey Horne, Dragonforce, Delain, The Amity Affliction, Orphaned Land, Tremonti, Shinedown, August Burns Red Bury Tomorrow, Refused, Converge, Sick of It All, Down, Melvins, Rival Sons, Fu Manchu, Hermano, Goatsnake, Kadavar, Kvelertak, Earth, Vision of Disorder, Kylesa, Architects, Walls of Jericho, Heaven Shall Burn, Caliban, The Toy Dolls, UK Subs, Discharge, Thy Art Is Murder, The Shrine, Arthemis, Nightmare, Taake, Kampfar, Asphyx, Vader, Cattle Decapitation, Insomnium, Entrails, Fallulah, The Skull, Havok, Sadist, Fleshgod Apocalypse, Cruachan, Solefalo, Heidevolk, Archgoat, Skálmöld, Dark Fortress, Myrkur, Behexen, The Vision Bleak, Stille Volk, Moonreich, Otargos, Hegemon, Fusto Bolt, Witches, Les Sales Majestés, Power Trip, Victims, Ratos de Porao, Torche, Saviours, Turnstille, Strife, Harm's Way, All Pigs Must Die, With the Dead, King Dude, Jambinai, Windhand, Wo Fat, Crobot, Valkyrie, Mantar, Stoned Jesus, Winter, Cowards, Blacktrack, Alea Jacta Est, Dirty Fonzy, Hangman's Chair, Monolord, Dopethrone, Lecherous Gaze y Stonebirds.

El equipo de redactores de MariskalRock te trae toda la información del mundo del rock y del metal, en todas sus vertientes.

Latest posts by Redacción (see all)