12 abril, 2017 12:44 pm
Deja tus comentarios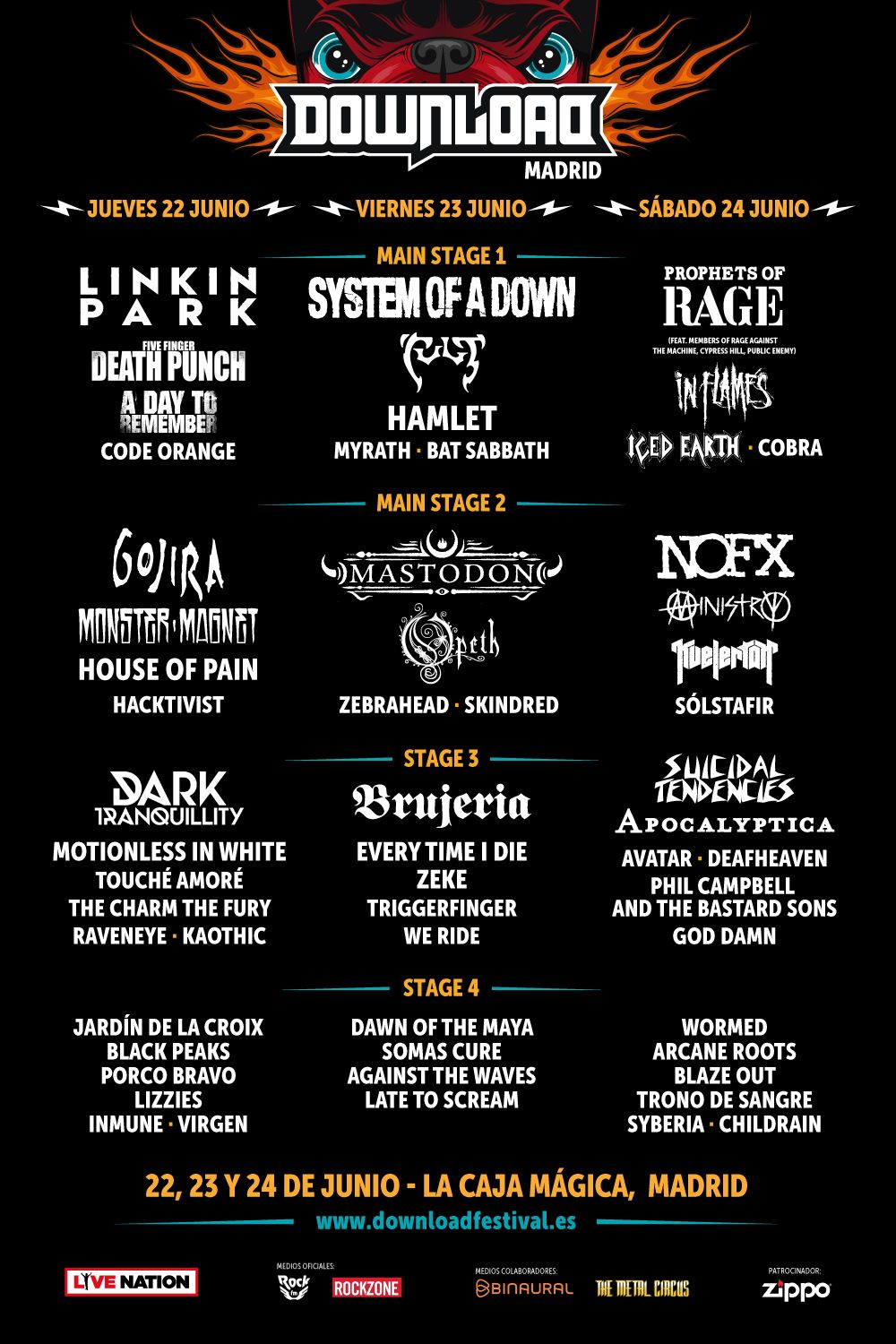 La primera edición del festival Download en España, que tendrá lugar en la Caja Mágica de Madrid los próximos días 22, 23 y 24 de junio, ha cerrado cartel confirmando a: Dark Tranquillity, Iced Earth, Kvelertak (la banda noruega que teloneará a Metallica en su tour europeo), Brujeria, Zebrahead, Zeke y Skindred.
Estas siete bandas se unen a las ya confirmadas. La organización del festival ya ha revelado cómo estarán repartidos los grupos en los cuatro escenarios según las jornadas:
Inaugarando el festival el jueves 22 de junio disfrutaremos en el primer escenario principal de Linkin Park, Five Finger Death Punch, A Day To Remember y Code Orange; en el segundo escenario principal Gojira, Monster Magnet, House Of Pain y Hacktivist; en el escenario 3 Dark Tranquillity, Motionless In White, Touché Amor, The Charm The Fury, Raveneye y Kaothic; y por último en el escenario 4 Jardín de la Croix, Black Peaks, Porco Bravo, Lizzies, Inmune y Virgen.
El viernes 23 de junio encontraremos en el primer escenario principal a System Of A Down, The Cult, Hamlet, Myrath y Bat Sabbath: Cancer Bats; en el escenario principal 2 Mastodon, Opeth, Zebrahead y Skindred; en el escenario 3 Brujeria, Every Time I Die, Triggerfinger y We Ride; y en el escenario 4 Dawn Of the Maya, Somas Cure, Against The Waves y Late To Scream.
El sábado y último día 24 de junio podremos ver sobre el primer escenario a Prophets Of Rage (feat. Members Of Rage Against the Machine, Cypress Hill y Public Enemy), In Flames, Iced Earth y Cobra. En el segundo escenario principal: NOFX, Ministry, Kvelertak y Sólstafir. En el escenario 3: Suicidal Tendencies, Apocalyptica, Avatar, Deafheaven, Phil Campbell And The Bastard Sons y God Dawn. En el cuarto escenario: Wormed, Arcane Roots, Blaze Out, Trono de Sangre, Syberia y Childrain.
El festival ha informado de un cambio en la actuación de la banda norteamericana Code Orange, que pasa del viernes 23 al jueves 22.
Las entradas están a la venta para cada jornada por 72€ y por 158,50€ si eliges entrada RIP. El precio del abono es de 158,50€.


El equipo de redactores de MariskalRock te trae toda la información del mundo del rock y del metal, en todas sus vertientes.

Latest posts by Redacción (see all)