3 abril, 2018 11:12 am
Deja tus comentarios
El festival que tendrá lugar los días 12, 13 y 14 de junio en Madrid acaba de anunciar el Mad Cool Talent 2018, su concurso de bandas emergentes, tanto nacionales como internacionales. De entre todos los grupos que se presenten, nueve ganadores tendrán la oportunidad de tocar en la próxima edición del Mad Cool Festival. Las inscripciones se encuentran disponibles desde hoy, 3 de abril, y el plazo se cerrará el próximo 17 de abril.  La primera fase consistirá en una selección de las mejores 50 bandas según un jurado formado por Ángel Alonso (Warner Music), Daniel Lopez (Mondo Sonoro), Dani Marin (Costello Club), Fernando Navarro (El País), Inma Grass (Altafonte), Javier Arnaiz (Mad Cool Festival), Javier Dean (Warner/ Chapell), Keina Garcia (Artica), Leire Alcalde (Sony /ATV), Nuria Rico (Live Nation), Paz Vila (Sony Music), Paloma Sánchez (Sol Música), Sara Quintela (Subterfuge Records) y Víctor Portugal (Cultura Rock). Los grupos que superen esta fase se someterán a una votación popular, que elegirá a las quince bandas que estarán en la final, celebrada a lo largo de tres conciertos en tres salas de Madrid los días 7, 8 y 9 de mayo. El 10 de mayo, los nueve grupos más votados de nuevo por el jurado serán los vencedores de Mad Cool Talent 2018.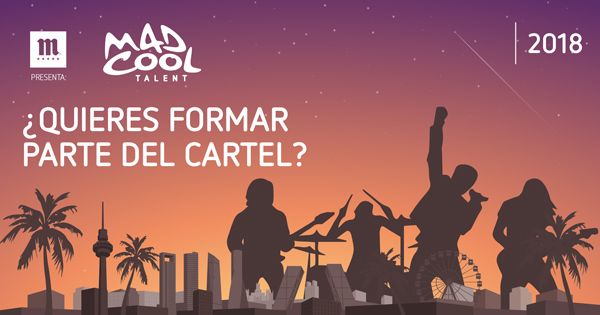 Recordamos que la tercera edición de este festival contará con las actuaciones  de los siguientes artistas: Pearl Jam, Nine Inch Nails, Arctic Monkeys, Jack White, Queens of the Stone Age, Depeche Mode, Alice In Chains, Kasabian, Franz Ferdinand,  Nine Inch Nails, Alice In Chains, Tame Impala, Kasabian, Japandroids, Wolf Alice, Eels, Fidlar, Bed Rugs, The Last Internationale, Franz Ferdinand, At The Drive In, Marmozets, Toundra, La Maravillosa Orquesta del Alcohol, Kevin Morby Black Pistol Fire, The Bloody Beetroots, Gang of Youths, Kaleo, LP, Black Rebel Motorcycle Club, Rival Sons, Agoraphobia, Niña Coyote Eta Chico Tornado, Biznaga,  Rufus T. Firefly, Justice, Fleet Foxes, MGMT, Massive Attack, Snow Patrol, Jack Johnson, Rag'N'Bone Man, Kase.O, Yo La Tengo, Sampha, Washed Out, Porches, Maya Janes Coles, Gold Panda, The Big Moon, Richie Hawtin Close, Young Fathers, Blackbear, James Bay, Leon Bridges, Daniel Avery, Odesza, Fatima Yamaha, Modelo de Respuesta Polar, Conttra, Perfume Genius, Real Estate, The White Buffalo, Sofi Tukker, Jain, Ofenbach, Morgan, Erol Alkan, Núria Graham, Future Islands, Glass Animals, Portugal. The Man, Frankie Cosmos, The Black Madonna, Ángel Stanish, Hurray for the Riff Raff, Maga, Polo & Pan Live y Haux.Childhood, Goat Girl, Pile, Gruppo di Pawlowski, Jardín de la Croix, Holy Bouncer, Deaf Havana, Milk Teeth, Durand Jones & The Indications, Iván Ferreiro, Underworld,  Dua Lipa, Post Malone, Underworld, Paul Kalkbrenner, James Holden con su banda The Animal Spirits, Weval, Bayonne, Ylia, Actress, Lali Puna, Cora Novoa, Bayonne, Víctor Santana, Elyella, DJ Koze, Paul Kalkbrenner, Milk Teeth, Re-Tros, Weval, Ben Howard, Mick Jenkins y Alex Francis.
Con los abonos ordinarios y packs de edición limitada agotados, la única posibilidad de acudir al Mad Cool Festival 2018 si todavía no te has hecho con tu pulsera pasa por adquirir entradas de día, disponibles por 85€ más gastos. Por su parte, las entradas de día y abonos VIP permiten acceso a  zonas exclusivas desde las que ver los conciertos o de restauración, así como permiso a parking  VIP o pantallas desde donde ver las actuaciones en directo. El precio de estas últimas asciende a los 175 € más gastos en caso de entradas diarias, siendo el de los abonos VIP de 420 €.

Últimas entradas de Redacción
(ver todo)