20 marzo, 2019 1:12 pm
2 Comentarios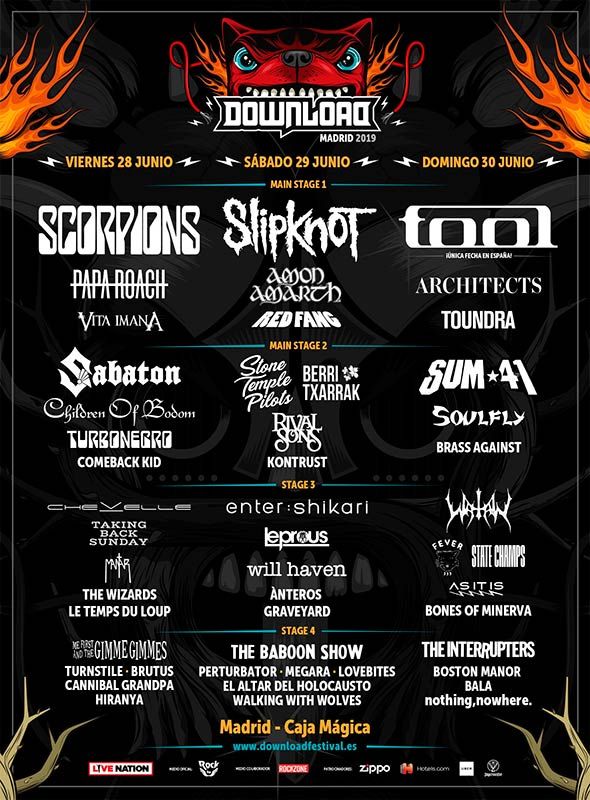 Llegan las últimas confirmaciones y con ellas el cierre del cartel para la edición de Download Madrid 2019 que se celebrará los días 28, 29 y 30 de junio de nuevo en el recinto de La Caja Mágica de la capital.
Tras la publicación del cartel nacional, llegan nueve destacadas confirmaciones finales, con los nombres de: Children of Bodom, Comeback Kid, Chevelle, Mantar, Red Fang, Enter Shikari, will haven, Rival Sons y Watain que completan un cartel de lo más atractivo para esta nueva edición dividida ya también por escenarios.
Viernes 28 de junio: Main Stage 1 - Scorpions, Papa Roach, Vita Imana. Main Stage 2 - Sabaton, Children of Bodom, Turbonegro, Comeback Kid. Stage 3 - Chevelle, Taking Back Sunday, Mantar, The Wizards, Le Temps Du Loup. Stage 4 - Me First and The Gimme Gimmes, Turnstile,  Cannibal Grandpa, Brutus, Hiranya.
Sábado 29 de junio: Main Stage 1 - Slipknot, Amon Amarth, Red Fang. Main Stage 2 - Stone Temple Pilots, Berri Txarrak, Rival Sons, Kontrust. Stage 3 - Enter Shikari, Leprous, will haven, Ánteros, Graveyard. Stage 4 - The Baboon Show, Perturbator,  Megara, Lovebites, El Altar del Holocausto, Walking With Wolves.
Domingo 30 de junio: Main Stage 1 - Tool, Architects, Toundra. Main Stage 2 - Sum 41, Soulfly, Brass Against. Stage 3 - Watain, Fever 333, State Champs, As It Is, Bones of Minerva. Stage 4 - The Interrupters, Boston Manor, Bala, nothing, nowhere.

Últimas entradas de Redacción
(ver todo)