7 mayo, 2018 11:23 am
Deja tus comentarios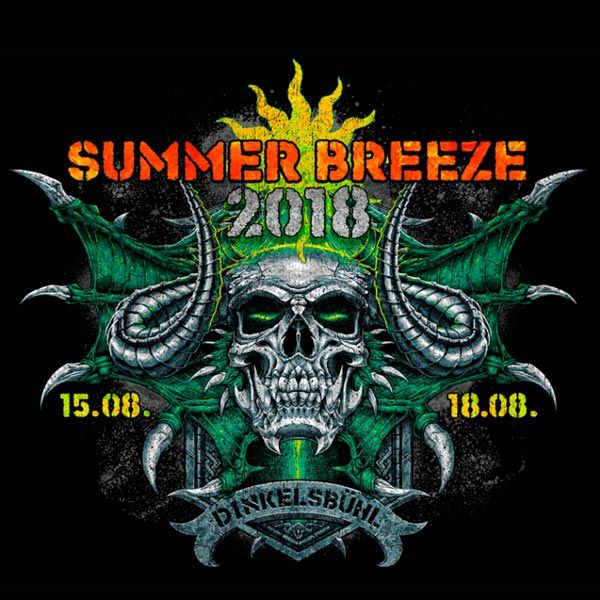 Hemos entrado en la recta final de la espera hasta un nuevo Summer Breeze Open Air. El festival, que este año afronta su 21º edición desde que iniciara sus andaduras en 1997, tendrá lugar en la localidad alemana de Dinkelsbühl, ubicación habitual desde 2006, durante los próximos 15, 16, 17 y 18 de agosto. Por lo tanto, quedan solamente 100 días para poder disfrutar de este evento en tierras alemanas.
Las últimas bandas que se han incorporado a su cartel han sido Suicidal Tendencies, Municipal Waste, Perturbator, Parasite Inc, Monument y Turisas. Por su parte, los grupos que ya habían confirmado su presencia en el festival son Acrinius, Alcest, Alestorm, Alien Waponry, Amaranthe, Ancest, Annisokay, Any Given Day, Arch Enemy, At The Gates, Attic, Audn, Backyard Babies, Baest, Bannkreis, Beartooth, Behemoth, Betraying The Martyrs, Blasmusik Illenschwang, Bloodbath, Broken Teeth, Coliban, Cannibal Corpes, Carmfex, Carppathian Forest, Carpenter Brut, Celeste, Comeback Kid, Counterparts, Danko Jones, Deathrite, Die Apokalyptischen Reiter, Dirkschneider, Doro, Dying Fetus, Einherjer, Eisbrecher, Ereb Altor, Eskimo Callboy, Evil Scarecrow, Echorder, Farmer Boys, Feuer Schwanz, Forever Still, Fractured Insanity, Goatwhore, Graveyard, Gyze, Harakiri For The Sky, Heilung, J.B.O., Jasta, Jinger, Kadavar, Kataklysm, Korpiklaant, Lüt, Malevolence, Marduk, Megaherz, Misery Index, Mir. Hurley & Die Pulveraffen, Necrotted, Night In Gales, Northlane, Obscura, Ondt Blod, Orange Goblin, Orden Ogan, Origin, Orphaned Land, Pallbearer, Papa Roach, Paradise Lost, Pillorian, Powerwolf, Pro-Pain, Ram, Rolo Tomassi, Ross The Boss, Saltario Mortis, Satricon, Schandmaul, Seasons In Black, Sepultura, Sibiir, Sick Of It All, Sirenia, Sólstafir, Spitfire, Stillbirth, Tankard, The Black Dahlia Murder, The Night Flight Orchestra, The Sleeper, The Spirit, Toxic Holocaust, Venues, Vreid, W.A.S.P., Warbringer, Wheel y Wolfheart.
Si no te quieres perder esta cita en honor al metal, aún hay disponibles abonos en la página web oficial del Summer Breeze 2018. Su precio es de 129 euros, e incluyen acceso al camping.

Últimas entradas de Redacción
(ver todo)