5 junio, 2018 3:20 pm
Deja tus comentarios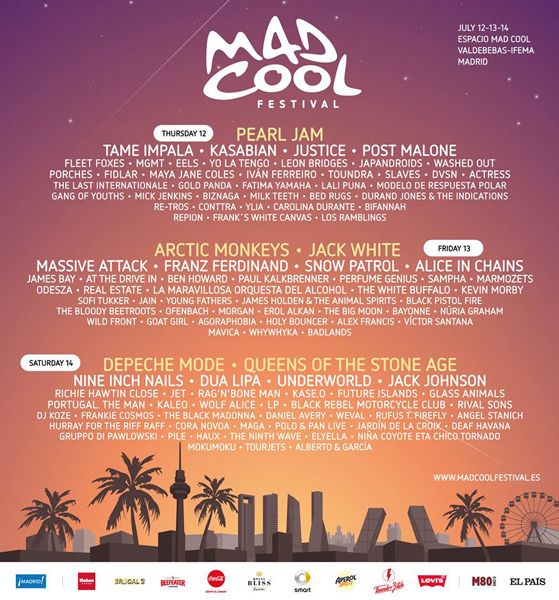 La reciente publicación de los horarios del Mad Cool Festival 2018 ha alegrado al fan medio rockero: salvo el conflicto Arctic Monkeys - Alice In Chains salen unas rutas bien majas para que pasemos sus tres días (12 al 14 de julio) viviendo entre amplificadores. Los puedes ver al completo aquí. ¡Pero esa no es la única buena noticia del día! Si no fuiste cauto y no te hiciste con tu abono a tiempo (se agotaron el 10 de enero), la organización del evento madrileño te salva poniendo a la venta 1000 abonos nuevos.
La decisión nace de la "intención de frenar las ventas fraudulentas, siempre basándonos en el aforo legal del recinto, como no podía ser de otra manera". Y es que el equipo del festi madrileño había visto como estos pases de tres días estaban alcanzando unos precios desorbitados en los canales no oficiales.
Se venderán en dos tandas: la primera llegará el miércoles 6 de junio a partir de las 10:00 de la mañana. Los 500 restantes se distribuirán la semana del 11 al 17 de junio. Todos ellos se podrán adquirir en exclusiva a través de la web del Mad Cool Festival a 190€ más gastos.
Estas son todas las bandas que se pasarán por el nuevo espacio Mad Cool de Valdebebas (Madrid):
12 de julio: Actress, Bed Rugs, Bifannah, Biznaga, Carolina Durante, Conttra, Durand Jones & The Indications, dvsn, Eels, Fatima Yamaha, FIDLAR, Fleet Foxes, Frank's White Canvas, Gang of Youths, Gold Panda, Iván Ferreiro, Japandroids, Justice, Kasabian, Lali Puna, Leon Bridges, Los Ramblings, Maya Jane Coles, MGMT, Mick Jenkins, Milk Teeth, Modelo de Respuesta Polar, Pearl Jam, Porches, Post Malone, Re-TROS, Repion, Slaves, Tame Impala, The Last Internationale, Toundra, Washed Out, Ylia y Yo La Tengo.
13 de julio: Agoraphobia, Alex Francis, Alice In Chains, Arctic Monkeys, At The Drive In, Badlands, Bayonne, Ben Howard, Black Pistol Fire, Erol Alkan, Franz Ferdinand, Goat Girl, Holy Bouncer, Jack White, Jain, James Bay, James Holden & The Animal Spirits, Kevin Morby, La M.O.D.A., Marmozets, Massive Attack, Mavica, Morgan, Núria Graham, Odesza, Ofenbach, Paul Kalkbrenner, Perfume Genius, Real Estate, Sampha, Snow Patrol, Sofi Tukker, The Big Moon, The Bloody Beetroots, The White Buffalo, Víctor Santana, Whywhyka, Wild Front y Young Fathers. 
14 de julio: Alberto & García, Ángel Stanich, Black Madonna, Black Rebel Motorcycle Club, Cora Novoa, Daniel Avery, Deaf Havana, Depeche Mode, DJ Koze, Dua Lipa, ELYELLA, Frankie Cosmos, Future Islands, Glass Animals, Gruppo di Pawlowski, Haux, Hurray for the Riff Raff, Jack Johnson, Jardín de la Croix, Jet, Kaleo, Kase.O., LP, Maga, Moku Moku, Niña Coyote Eta Chico Tornado, Nine Inch Nails, Pile, Polo & Pan, Portugal. The Man, Queens of the Stone Age, Rag'n'Bone Man, Richie Hawtin Close, Rival Sons, Rufus T. Firefly, The Ninth Wave, Tourjets, Underworld, Weval y Wolf Alice. 

Últimas entradas de Redacción
(ver todo)