17 noviembre, 2014 7:13 pm
3 Comentarios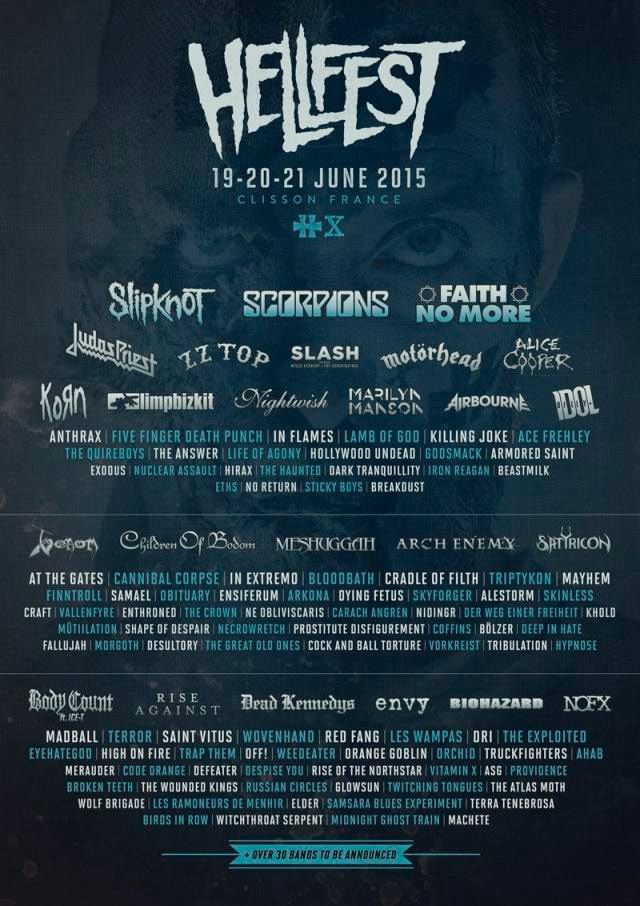 Tal y como declararon los organizadores del festival en su propia página oficial de Facebook, casi mueren debido a su propio éxito, ya que la web oficial del festival colapsó por las innumerables visitas simultáneas llevadas a cabo por los usuarios que querían saber los primeros nombres confirmados para este festival que va camino a convertirse en una leyenda a la altura de un Wacken, si es que no lo es ya después de contar el año pasado con un line-up encabezado nada menos que por Iron Maiden, Aerosmith y Black Sbbath.
A falta de unas 30 bandas más por confirmar, os presentamos este cartel en progreso que ya es de auténtico infarto. Recordamos que el evento, que celebra su décimo aniversario, tendrá lugar, como es habitual, el penúltimo fin de semana de junio, o lo que es lo mismo, los días 19, 20 y 21. Los abonos ya están a la venta a un precio de 185€ en el sitio oficial de Hellfest, mientras que las entradas individuales saldrán próximamente. Recordamos que el año pasado se agotaron los tickets y que para esta entrega, la organización ha decidido reducir el aforo en pos de una mayor comodidad.
Estaremos atentos al resto de confirmaciones pendientes. De momento este es el impresionante cartel anunciado:
SLIPKNOT, SCORPIONS, FAITH NO MORE, JUDAS PRIEST, ZZ TOP, SLASH, MOTÖRHEAD, ALICE COOPER, KORN, LIMP BIZKIT, NIGHTWISH, MARILYN MANSON, AIRBOURNE, BILLY IDOL, ANTHRAX, SODOM, CHILDREN OF BODOM, MESHUGGAH, ARCH ENEMY, SATYRICON, BODY COUNT, RISE AGAINST, DEAD KENNEDYS, ENVY, BIOHAZARD, NOFX, FIVE FINGER DEATH PUNCH, IN FLAMES, LAMB OF GOD, KILLING JOKE, ACE FREHLEY, THE QUIEREBOYS, THE ANSWER, LIFE OF AGONY, HOLLYWOOD UNDEAD, GODSMACK, ARMORED SAINT, EXODUS, , AT THE GATES, CANNIBAL CORPSE, IN EXTREMO, BLOODBATH, CRADLE OF FILTH, TRIPTYKON, MAYHEM, FINNTROLL, SAMAEL, OBITUARY, MADBALL, TERROR, SAINT VITUS, WOVENHAND, RED FANG, LES WAMPAS, DRI, THE EXPLOITED, EYEHATEGOD, HIGH ON FIRE, ENSIFERUM, ARKONA, DYING FETUS, SKYFORGER, ALESTORM, SKINLESS,  NUCLEAR ASSAULT, HIRAX, THE HAUNTED, DARK TRANQUILITY, IRON REAGAN, BEAST MILK, ETHS, NO RETURN, STICKY BOYS, BREAK DUST, CRAFT, VALLENFYRE, ENTHRONED, THE CROWN, NE OBLIVISCARIS, CARACH ANGREN, NIDINGR, DER WEG EINE FREIHEIT, KHOLD, MÜTILATION, SHAPE OF DESPAIR, NECROWRETCH, PROSTITUTE DISFIGUREMENT, COFFINS, BÖLZER, DEEP IN HATE, FALLUJAH, MORGOTH, DESULTORY, THE GREAT OLD ONES, COCK AND BALL TORTURE, VORKREIST, TRIBULATION, HYPNOSE, TRAP THEM, OFF!, WEEDEATER, ORANGE GOBLIN, ORCHID, TRUCKFIGHTERS, AHAB, MERAUDER, CODE ORANGE, DEFEATER, DESPISE YOU, RISE OF THE NORTHSTAR, VITAMIN X, ASG, PROVIDENCE, BROKEN TEETH, THE WOUNDED KINGS, RUSSIAN CIRCLES, GLOWSUN, TWITCHING TONGUES, THE ATLAS MOTH, WOLF BRIGADE, LES RAMONEURS DE MENHIR, ELDER, SAMSARA BLUES EXPERIMENT, TERRA TENEBROSA, BIRDS IN ROW, WITCHCRAFT SEPRENT, MIDNIGHT GHOST TRAIN, MACHETE.

Últimas entradas de Redacción
(ver todo)