13 diciembre, 2017 1:48 pm
Deja tus comentarios
Bestial. Simplemente bestial. El Hellfest lo ha vuelto a hacer, creando un cartel espectacular para 2018 con una línea media apabullante y tres cabezas de cartel de altura: Iron Maiden, Avenged Sevenfold y Judas Priest. Ahora prestad atención al resto del cartel: Hollywood Vampires, Deftones, Marilyn Manson, Alice In Chains, Nightwish, Limp Bizkit, A Perfect Circle, Megadeth, Parkway Drive, Stone Sour, Bullet For My Valentine, Body Count Ft. Ice T, Pleymo, Steven Wilson, Europe, Jonathan Davis, Joan Jett & The Blackhearts, Dimmu Borgir, Satyricon, Watain, Childen of Bodom, Therion, Exodus, Carpenter Brut, At The Gates, Carnivore A.D., Rise Against, The Hellacopters, Bad Religion, Turbonegro, Neurosis, Dead Cross, Corrosion of Conformity, Hatebreed y Cro-Mags. 
¡Y esas son solo las bandas con logo! ¿El resto? Accept, Tremonti, Arch Enemy, Meshuggah, Converge, Killswitch Engage, Asking Alexandria, Powerflo, In This Moment, Shinedown, Rose Tattoo, Iced Earth, Primal Fear, Orden Ogan, Sons of Apollo, Tesseract, Rise of the Northstar, Stray From The Path, Eskimo Callboy, Feed The Rhino, The Chris Slade Timeline, Toseland, Electric Mary, The Raven Age, Savage Messiah, Bukowski, Black Bomb A, Malemort, Tremplin "Voice Of Hell", Demolition Hammer, Exhorder, Nile, Suffocation, Kataklysm, Ensiferum, Amorphis, Origin, Septicflesh, Ackercoke, Solstafir, Enslaved, Memoriam, Batushka, Arkona, Mysticum, Saor, Heilung, Manegarm, Oranssi Pazuzu, Nordjevel, Psykup, Nenighted, Exumer, Rotten Sound, Misanthrope, Demilich, The Lurking Fear, Crisix, Bloodshot Dawn, The Walking Dead Orchestra, Drakwald, Hexecutor, Malkavian, Young and In The Way, Schammasch, Mispyrming, The Great Old Ones, Au-Dessus, Hantaoma, Darkenhold, Cainan Dawn, Pensées Nocturnes, Plebeian Grandstand, Orange Goblin, Dälek, HO99O9, Zeal and Ardor, Nebula, Church of Misery, Baroness, Madball, 7 Seconds, Terror, Gluecifer, Backyard Babies, Uncommonmenfrommars, Burning Heads, Les Sheriff, The Bronx, Amenra, Eyehategod, Crowbar, Modern Life Is War, Knocked Loose, Turnstile, Get The Shot, Incendiary, Spermbirds, Hard-ons, Seven Hate, Lords of Altamont, Grave Pleasures, The Good The Bad and the Zugly, Bunkum, Pogo Car Crash Control, Bongzilla, 1000mods, Monolord, Warning, Dopethrone, Sons of Otis, Black Rainbows, Fange, Jessica93, The Texas Chainsaw Dust Lovers.
Por cierto, como habéis podido ver, este año tenemos representación: Crisix. ¡Da gusto ver una de nuestras bandas llegando a los grandes festivales internacionales!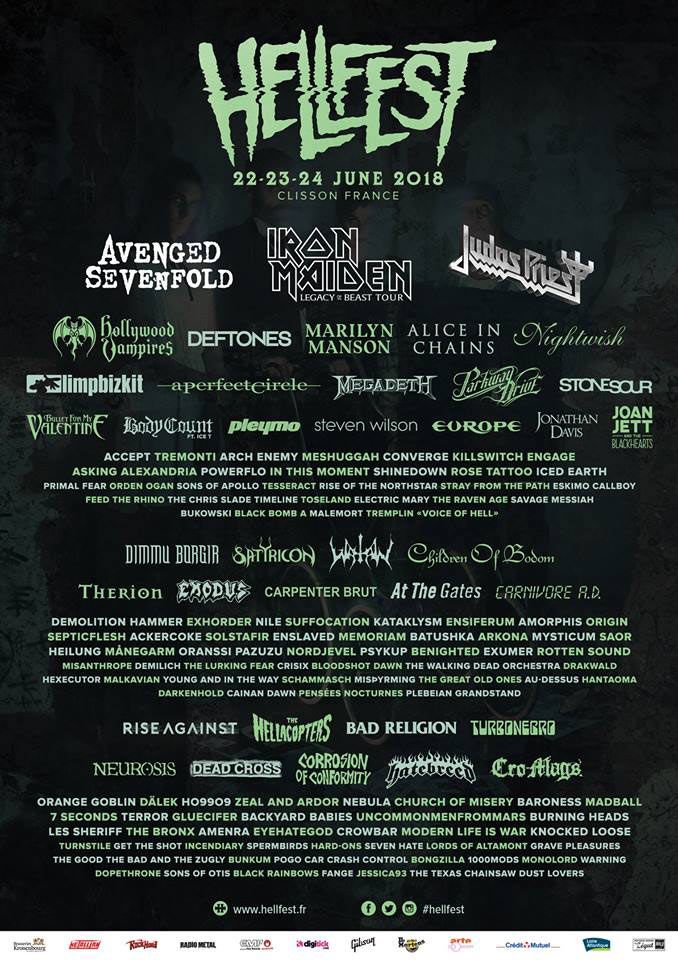 Como todos sabéis, las entradas ya están agotadas para este evento que tendrá lugar en Clisson (Francia) los días 23, 23 y 24 de junio. No os lo teníais que haber pensado...

Últimas entradas de Redacción
(ver todo)