29 noviembre, 2019 12:58 pm
3 Comentarios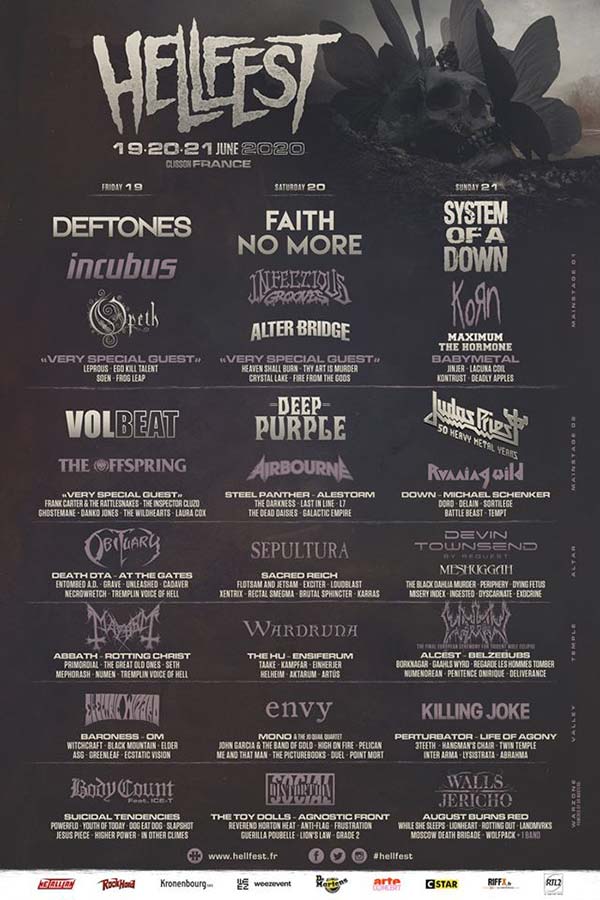 Las entradas para Hellfest 2020 se agotaron en cuestión de horas, pero lo más fuerte es que lo consiguieron sin haber confirmado ni una sola banda. Casi dos meses después de que los seguidores del festival francés lograran el sold out, por fin conocemos el cartel completo para esta edición, que tendrá lugar entre el 19 y el 21 de junio en Clisson, en Francia, y que supondrá la 15ª de la historia de esta cita.
Al contrario de lo que hacen otras cabeceras de festivales, Hellfest ha decidido rechazar la información en pequeñas píldoras y darnos de golpe el plantel de grupos. Deftones, Faith No More y System Of A Down encabezan un cartel protagonizado también por Incubus, Infectious, Korn, Opeth, Alter Bridge, Volbeat, Deep Purple, Judas Priest, Sepultura, Obituary y Devin Townsend By Request.
Estas son el resto de bandas que completan el line up: Leprous, Ego Kill Talent, Soen, Frog Leap, Heaven Shall Burn, Thy Art Is Murder, Crystal Lake, Fire From The Gods, Maximum The Hormone, Babymetal, Jinjer, Lacuna Coil, Kontrust, Deadly Apples, The Offspring, Airbourne, Running Wild, Frank Carter & The Rattlesnakes, The Inspector Cluzo, Ghostemane, Danko Jones, The Wildhearts, Laura Cox, Steel Panther, Alestorm, The Darkness, Last In Line, L7, The Dead Daisies, Galactic Empire, Down, Michael Schenker, Dord, Delain, Sortilege, Battle Beast, Tempt, Death DTA, At The Gates, Entombled A.D., Grave, Unleashed, Cadaver, Necrowretch, Tremplin Voice Of Hell, Sacred Reich, Flotsam And Jetsam, Exciter, Loudblast, Xentrix, Rectal Smegma, Brutal Sphincter, Karras, Meshuggah, The Black Dahlia Murder, Periphery, Dying Fetus, Msery Index, Ingested, Dyscarnate, Exocrine, Abbath, Rotting Christ, Primordial, The Great Old Ones, Seth, Mephorash, Numen, Tremplin Voice Of Hell, The Hu, Wardruna, Ensiferum, Taake, Kampfar, Einherjer, Helheim, Aktarum, Artus, Alcest, Belzebubs, Gaahls Wyrd, Regarde Les Hommes Tomber, Numendrean, Penitence Onirique, Deliverance, Electric Wizard, Baroness, OM, Withcraft, Black Mountain, Elder, ASG, Greenleaf, Ecstatic Vision, Envy, Killing Joke, John Garcia & The Band Of Gold, High On Fire, Pelican, Me And That Man, The Picturebooks, Duel, Point Mort, Perturbator, Life Of Agony, 3Teetah, Hangman's chair, Twin Temple, Inter Arma, Lysistrata, Abrahma, Body Count, Distortion, Walls of Jericho, Suicidal Tendencies, Powerfld, Youth Of Today, Dog Eat Dog, Slapshot, Jesus Piece, Higher Power, In Other Climes, The Toy Dolls, Agnostic Front, Reverend Horton Heat, Anti-flag, Frustration, Guerrilla Poubelle, Lion's Law, Grade 2, August Burns Red, While She Sleeps, Lionheart, Rotting Out, Landmyrks, Moscow Death Brigade y Wolfpack.