7 marzo, 2019 2:31 pm
1 Comentario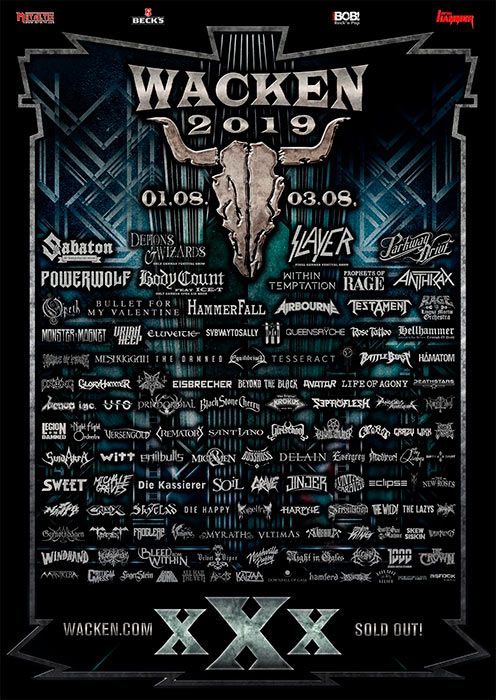 El que es considerado como la Meca del metal europeo, Wacken Open Air, el festival que tendrá lugar los días 1, 2 y 3 de agosto en la localidad que le dio nombre, anuncia la incorporación al cartel de su XXX aniversario de 26 bandas más.
La lista que incluye a nuestros Angelus Apatrida, que se sumarán a los ya anunciados Crisix en el mítico escenario, es la siguiente: Aborym, Angelus Apatrida, Asrock, Baby Face Nelson, Crazy Lixx, Crobot, Deathstars, Dirty Shirt, Eclipse, Hellhammer (Tom Warrior's Triumph Of Death), Lucifer Star Machine, Monster Magnet, Nachtblut, Nordjevel, Prong, Savage Messiah, Skew Siskin, The Damned, The Lazys, The New Roses, The Quireboys, The Wild!, Uriah Heep, Warkings, Wiegedood y Zuriaake.
Brillan en la cima del cartel los nombres que encabezarán esta edición tan especial, con la despedida de Slayer, Within Temptation, Demons & Wizards, Powerwolf, Sabaton y Parkway Drive como principales reclamos. No se quedan atrás nombres como los de Anthrax, la actuación de Body Count con el actor y rapero Ice T al frente, Prophets of Rage o los mismos Rage en su gira con la Lingua Mortis Orchestra.
El brutal cartel se completa con: 1000 Löwen unter Feinden, Acranius, Airbourne, All Hail The Yeti, Anthrax, Avatar, Battle Beast, Beyond The Black, Black Stone Cherry, Bleed From Within, Body Count, Bullet For My Valentine, Cradle Of Filth, Crematory, Crisix, Critical Mess, D-A-D, Dark Funeral, Delain, Demons & Wizards, Die Happy, Die Kassierer, Downfall Of Gaia, Eisbrecher, Eluveitie, Emil Bulls, Equilibirum, Evergrey, For I Am King, Frog Leap, Gama Bomb, Gernotshagen, Girlschool, Gloryful, Gloryhammer, Grave, Hämatom, Hamferð, Hammerfall, Harpyie, Jinjer, Joachim Witt, Kaizaa, Kärbholz, Krokus, Lagerstein, Legion Of The Damned, Life Of Agony, Manticora, Meshuggah, Michale Graves, Myrath, Nashville Pussy, Nasty, Necrophobic, Night In Gales, Of Mice And Men, Opeth, Parkway Drive, Powerwolf, Primordial, Prophets Of Rage, Queensrÿche, Rage & Lingua Mortis Orchestra, Rose Tattoo, Sabaton, Santiano, Septicflesh, Sisters Of Mercy, Skyclad, Slayer, Soil, Subway To Sally, Suidakra, Sweet, Tesseract, Testament, The Adicts, The Boss Hoss, The Crown, The Night Flight Orchestra, The Vintage Caravan, Thy Art Is Murder, Torment, Tribulation, UFO, Vampire, Velvet Viper, Venom Inc., Versengold, Vltimas, Vogelfrey, Windhand y Within Temptation.

Últimas entradas de Redacción
(ver todo)